Discover The Mercedes EQ Family of Electric Vehicles
Can a car be both high-performing and eco-friendly? It can if it's a Mercedes-Benz. Contemporary Motor Cars is embracing a more sustainable future with our upcoming EQ family of hybrid and electric vehicles. Like other Mercedes-Benz cars and SUVs, these vehicles are powerful and efficient, but environmentally conscious drivers in Wall Township will like that they produce little or no polluting emissions.
Hybrid and Electric Luxury Cars and SUVs that NJ Drivers Are Sure to Love
People from Holmdel to Toms River are doing their part to halt or slow climate change by driving hybrid or electric cars and SUVs. Mercedes-Benz is making it possible to have an electric luxury car or SUV without sacrificing performance or amenities.
From quicker acceleration to elevated ride comfort, Mercedes-Benz is changing the way Toms River drivers feel about hybrid and electric vehicles. With improved battery power and upgraded design, more and more people are realizing that "green" luxury cars are just as fun to drive or more than their gas-powered counterparts.
Whether you're interested in a hybrid car, an electric luxury SUV, or an electric car, it'll soon be available for sale or lease at Contemporary Motor Cars in Little Silver. We're committed to sustainability, and we're planning more initiatives like solar and electric for the future.
Meet the First EQ Models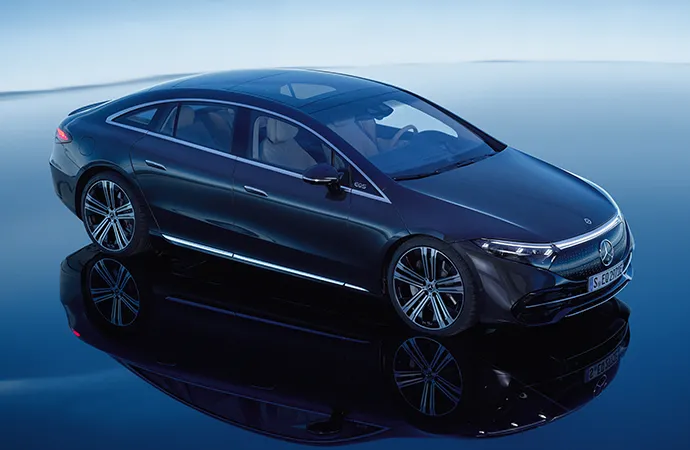 Mercedes EQS (available this year)
Expected to arrive sometime this fall, the new Mercedes-Benz EQS will feature an electric motor mounted on its rear axle that generates 329 horsepower and 406 pound-feet of torque. A 516-horsepower, all-wheel-drive powertrain will also be available in this electric luxury car. The EQS will come with a next generation lithium-ion battery that can be recharged in as little as 15 minutes at DC fast-charging stations.
People in Holmdel will be dazzled by the Mercedes-Benz EQS's available 56-inch-long Hyperscreen infotainment display. It will also be lined with beautiful, high-quality materials and outfitted with countless luxury amenities. An optional Executive Rear Seat package will include adjustable back seats with massage functions, neck and shoulder heating, and an individual tablet to control the MBUX infotainment system.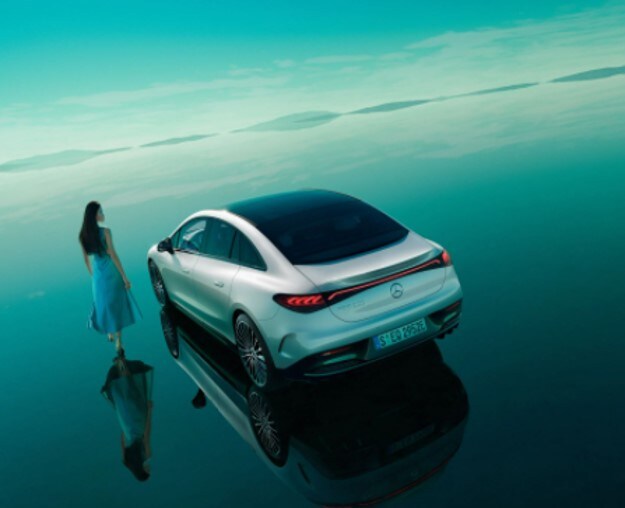 Mercedes EQE (scheduled to arrive in 2022)
If you'd prefer a smaller electric luxury car, the Mercedes-Benz EQE will be coming in 2022. Drivers from "the shore" will appreciate that this electric sedan can go more than 300 miles on a single charge. They'll also like the EQE's fast-charging capabilities, which enable them to charge its battery from 10 to 80 percent in about 30 minutes. It's expected to sprint from 0 to 60 mph in 5.6 seconds and have a top speed of 130 mph.
Inside, the Mercedes-Benz EQE will have ample passenger space and standard heated and ventilated seats. It will also offer the Hyperscreen and Mercedes-Benz's latest MBUX software. The EQE's customizable ambient interior lighting can be set to match your mood.
Mercedes EQB (scheduled to arrive in 2022)
Rather drive an electric luxury SUV? The upcoming Mercedes-Benz EQB is a midsize SUV with an optional third row of seats. People in Wall Township will like the EQB's posh cabin, which has nicely trimmed door panels, soft leather upholstery, bright metal trim, and rose-gold interior accents.
The Mercedes-Benz EQB will have a perky, 221-horsepower electric motor and front-wheel drive. Toms River drivers will appreciate that the EQB is expected to have a driving range of at least 200 miles per charge.
EQ Electric Technology
The EQ line features innovative technologies like synchronous motors, known for their high efficiency, compact size, and ability to produce high torque at low speeds. Next-generation lition-ion batteries offer high performance and excellent charging capacity. Merecedes Benz will assist in getting a high powered wallbox installed in your home, so charging will be a breeze. And for longer trips, there is even a Mercedes Me Connect App that you can install on your phone to locate charging stations and initiate payments.
More the Come
The EQ line of electric vehicles represents the Mercedes-Benz commitment to an electric future. The EQS, EQB, and EQE are the first to bear the Mercedes-EQ badge, but there will be more to come. Stay tuned with us and be one of the first in the Jersey Shore to drive a Mercedes Benz electric car or SUV!
Reserve a Test Drive in a New Mercedes-Benz Luxury Car or SUV at Contemporary Motor Cars
Mercedes-Benz is rolling into the future with state-of-the-art hybrid and electric technology. Our electric luxury cars and electric luxury SUVs are efficient and environmentally friendly, while still providing the thrilling performance you expect from a Mercedes-Benz vehicle. Whether you live near "the shore", Holmdel, or Tom's River, Contemporary Motor Cars is here to serve you with quality luxury vehicles at reasonable prices. Contact us to reserve a test drive in a new electric luxury car or SUV.
Reach Out to Learn More About the EQ Lineup and Availability
Contemporary Motor Cars

100 Oceanport Avenue
Little Silver, NJ 07739